WORKSHOPS

Knotless Knots - explorations in one dimension.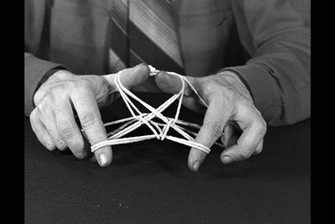 Loops of cord are used to demonstrate how string figures from different cultures have evolved and shows their link with mathematics. Participants will learn how to make three base designs, and as they work with the string, will gain fresh insights into symmetry and pattern. To encourage the participants to begin to create their own designs, a presentation will be given to show how string loops have been used to design a cathedral, an Audi car and a modern dance production.

---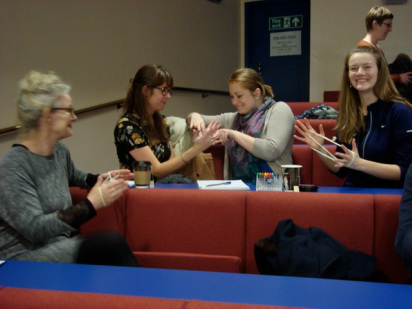 Folding- explorations in two dimensions
After an introduction to the ubiquitousness of folding, from the Space Station to DNA, some modern developments in Paper Folding will be demonstrated, including folding paper into curves by using pleats. Three action models will be taught which will illustrate the principles of the centre of gravity, symmetry and balance, all leading to a class competition. The workshop will end with a display of Origami models to encourage on-going creativity.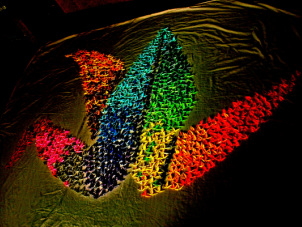 Soap Bubbles- explorations in three dimensions

Using some of the wonderful properties of soap bubbles and soap films, Surface tension and minimum surfaces are explored through visual stories. A simple recipe for a strong bubble mix will be made and tested. Pupils will learn about reflection, refraction, humidity and air currents, and take active part in trying out some of the principles learned. Towards the end of the workshop, everyone will be given the opportunity to make large bubbles outdoors.


Costs
School visits are suitable for age groups 3-5: 5-7: 7-11 and 11-14 in particular.
To discuss the possible options contact email: philipdnoble@btopenworld.com
Charges vary according to the nature of the work, the number of workshops, and participants, the size of the venue and cost of travel.
To give some guidance the cost of half a day of workshops could be in the region of £140 plus travel expenses.
Quotes:


"The bubble show was amazing! The variety and size of the bubbles that you created were truly wonderful and you handled all the various activities with the large audience so neatly. It was tremendous that you were able to include so many school classes as well - everything you did was warmly appreciated." Howie Firth Orkney Science Festival 2016

" Thank you for your help with our bubbles, we tried your recipe for outdoor bubbles on the Saturday, and they worked so much better! . It was amazing . . . the children loved it,. "
The bubble people at Imperial College London May 2014

" Thanks for being so willing to come. You were a huge hit, and the most popular thing (again) at the festival."
D.J , Organiser of the Hebridean Science Festival 2014.

"An excellent opportunity to learn from a highly knowledgeable scientist (and lovely gentleman!).
Teacher response Newcastle Science Festival

"Philip was able to keep the attention of the whole public by his words, gestures and one string, nothing else, to let us live the story he wanted us to listen to. He is not only a passionate storyteller but also a man very committed to others always ready to explain again and again and capable to get the best out of someone."
Francis Mean (Belgian artist and sculptor)

"I never knew you could do so much with bubbles! All the children and staff were mesmerized and hugely entertained." Miss Powell Assistant Head.


"Thank you for your coming to work with us ! You have definitely inspired us. There is something very beautiful about the string games, how they excite people, everyone wants to learn! "
Eleanor Bauer, dancer and choreographer